Types of student loans
Many Filipinos dream of earning a college or postgraduate degree, but that dream may be impossible for them if their family is not financially stable. In cases like this, student loans in the Philippines can greatly help students and their families. These loans allow students to borrow money from institutions to pay for tuition fees. However, there are several things to keep in mind before applying for a student loan.
First, students must understand the different types of student loans. There are some types of student loans in the Philippines:
Government Student Loans: The Philippine government offers various loan programs such as the Student Loan Program (SLP) and the Study Now, Pay Later (SNPL) program. These loans are typically low-interest or interest-free and are available to students pursuing higher education.
Private Student Loans: Private banks and financial institutions in the Philippines also offer student loans. These loans usually have varying interest rates and terms, and eligibility requirements may differ among lenders.
Institutional Student Loans: Some universities and colleges in the Philippines provide their own student loan programs to help students with tuition and other educational expenses. These loans are often offered at lower interest rates or with flexible repayment options.
Non-Government Organization (NGO) Loans: Certain NGOs in the Philippines offer student loan programs to support underprivileged students who may not qualify for other loan options. These loans often come with favorable terms and conditions.
Scholarship Loans: Some scholarships in the Philippines come in the form of loans. These loans provide financial assistance to students, which they will need to repay after completing their studies. Scholarship loans usually have more favorable repayment terms compared to traditional loans.
Another thing to remember is that the application process for student loans in the Philippines can be lengthy and complicated. This is because the number of applicants often exceeds the availability of funds. In order to increase your chances of getting a loan, you should apply early and provide all the necessary documents. Additionally, it is a good idea to have a guarantor. This person can be a friend or relative and will provide proof of income.
In addition to the application process, students should also be aware of the repayment terms for their loan. Typically, these terms will span up to 10 years and include monthly installment payments with pre-agreed interest rates. Students can also choose to defer the payment of their loan until after graduation.
Eligibility requirements

In a society where the cost of living continues to rise, it can be difficult for financially challenged families to afford education. This is why student loans are so important. They help reduce the financial burden for students and allow them to focus on their studies and extracurricular activities. But before you apply for a student loan, it's important to know what fees and rates are involved. These will determine the total amount you need to pay back once you graduate.
There are several different lenders that offer student loans in the Philippines. Some require a cosigner, while others do not. Those that require a cosigner generally have a higher interest rate than those that do not. It's also important to know what the repayment schedule is for your specific lender. You may be required to make payments once a month or once every two weeks. In addition, you may be charged late fees or other charges if you miss a payment.
The application process for a student loan in the Philippines is relatively quick and easy. The requirements vary from lender to lender, but most require the applicant to fill out an online application form. Some lenders also require a personal interview and verification with a credit officer. Others request a list of school-related expenses and proof of income from the student's family. However, before applying for a student loan, it is crucial to understand the eligibility requirements to avoid any setbacks in the process.
Age Limits
The age limit for student loans in the Philippines is generally between 18-30 years. However, some lenders may have different age limits. It is essential to check with the lender before applying for a loan. Students above the age limit may find it difficult to avail of student loans, and hence it is best to plan and apply for the loan within the age limit.
Academic Qualifications
To apply for a student loan, the applicant must be enrolled in an academic program that leads to a degree or diploma. The applicant must also be a citizen of the Philippines or a permanent resident of the country. The academic qualifications should be from a recognized institution, and the student should be pursuing an undergraduate, graduate, or post-graduate program.
Income Requirements
Student loans are usually provided to students who come from families with low income. The income requirement varies from lender to lender. Students who come from families with low income or fall under the poverty line can avail of student loans without any difficulty. However, students from families with higher-income brackets may have to provide additional documents and may find it challenging to avail of student loans.
Credit Score
Credit scores play a vital role in availing student loans in the Philippines. A credit score is a numerical representation of the creditworthiness of an individual. A good credit score indicates that an individual has a good history of repaying debts on time. Students with a good credit score are more likely to receive student loans with lower interest rates. On the other hand, students with a poor credit score may find it challenging to avail of student loans or may receive loans with higher interest rates.
Application process
Getting a student loan in the Philippines can be a daunting task, but with the right information and preparation, it can become a smooth and hassle-free experience. In this blog post, we will guide you through the application process, including where to apply, the required documents, and the steps to follow. Where to Apply:
There are several institutions where you can apply for a student loan in the Philippines. The most common options are government agencies such as the Commission on Higher Education (CHED), the Department of Education (DepEd), and the Social Security System (SSS). Private banks and lending institutions also offer student loans, but they usually have stricter requirements and higher interest rates.
Required Documents
The documents required for a student loan application may vary depending on the institution you choose. However, the following are the most common documents required:
Application form – this is the first document that you need to accomplish. It usually contains personal information such as your name, contact details, and educational background.
Proof of income – you need to provide documents that prove your or your co-borrower's ability to pay the loan. For employed individuals, this may include payslips and employment certificates. For self-employed individuals, this may include income tax returns and business permits.
Proof of enrollment – you need to provide proof of your enrollment in a recognized educational institution. This may include your school ID, enrollment certificate, and other school-related documents.
Valid IDs – you need to provide at least two valid IDs such as a passport, driver's license, or any government-issued ID.
Other supporting documents – you may also be required to submit other supporting documents such as your transcript of records, certificate of good moral character, and references from teachers or professors.
Steps to Follow
Now that you know where to apply and what documents to prepare, here are the general steps to follow when applying for a student loan:
Research and compare loan options – before applying for a loan, make sure to research and compare different loan options offered by various institutions. Consider interest rates, repayment terms, and other fees.
Fill out the application form – once you have chosen a loan option, fill out the application form and attach all the required documents.
Wait for approval – the approval process may take a few days to several weeks, depending on the institution. Be patient and prepare for a possible interview or additional requirements.
Sign the loan agreement – once your loan is approved, you will need to sign a loan agreement that outlines the terms and conditions of the loan. Make sure to read and understand the agreement before signing.
Receive your loan – after signing the loan agreement, you will receive your loan disbursement. Make sure to use it wisely and pay your dues on time.
Repayment Options and Considerations of Student Loans
Once you have taken out a student loan in the Philippines, it is crucial to understand the repayment options available to you. Here are some key considerations to keep in mind:
Repayment Plans:Fixed Repayment Plan:

Under this option, you will make fixed monthly payments for the duration of the loan term. This provides stability and allows for better budgeting as you know exactly how much to pay each month.
Flexible Repayment Plan: This option allows you to adjust your monthly payments based on your financial situation. It offers more flexibility, especially if you anticipate fluctuations in your income. However, keep in mind that a flexible repayment plan may result in a longer repayment period and potentially higher overall interest costs.

Budgeting and Financial Planning:

Create a monthly budget that includes your loan repayment amount as a fixed expense. This will help you allocate your income effectively and ensure you have enough funds to cover your loan payments.
Consider your other financial obligations and prioritize your loan repayment. It's important to make timely payments to avoid any penalties or negative impact on your credit score.v

Grace Periods: Some student loans provide a grace period after you complete your studies before you need to start repaying the loan. This grace period allows you to secure employment and establish financial stability before making loan payments. Take note of the length of the grace period offered by your loan provider.
Interest Rates: Understand the interest rate associated with your loan. Fixed interest rates remain the same throughout the repayment period, providing predictability. Variable interest rates may change over time, so be prepared for potential fluctuations in your monthly payments.
Penalties for Late or Missed Payments: Familiarize yourself with the penalties and fees associated with late or missed payments. These may include additional interest charges or late payment fees. Ensure that you adhere to the repayment schedule to avoid any financial setbacks.
Remember, responsible loan repayment is essential to maintain good financial standing and avoid any negative consequences. Regularly assess your financial situation, review your repayment options, and seek guidance from your loan provider if needed. With careful planning and adherence to your repayment plan, you can successfully repay your student loan and move towards a debt-free future.
Conclusion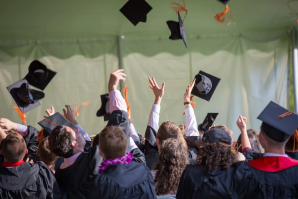 Student loans are a great way to finance your education and give you more options for the future. They can help you pay for your tuition fees, tools, equipment and other living expenses. They can also cover review expenses for professional licensure exams. It's a win-win situation for you and your family.
Taking out a student loan can be a helpful way to finance your education in the Philippines. However, it is important to understand the terms and conditions of the loan before signing on the dotted line. Be sure to consider the interest rates, repayment periods, and consequences of defaulting before making a decision. By doing so, you can ensure that you are making a wise financial decision for your future.